Main content starts here, tab to start navigating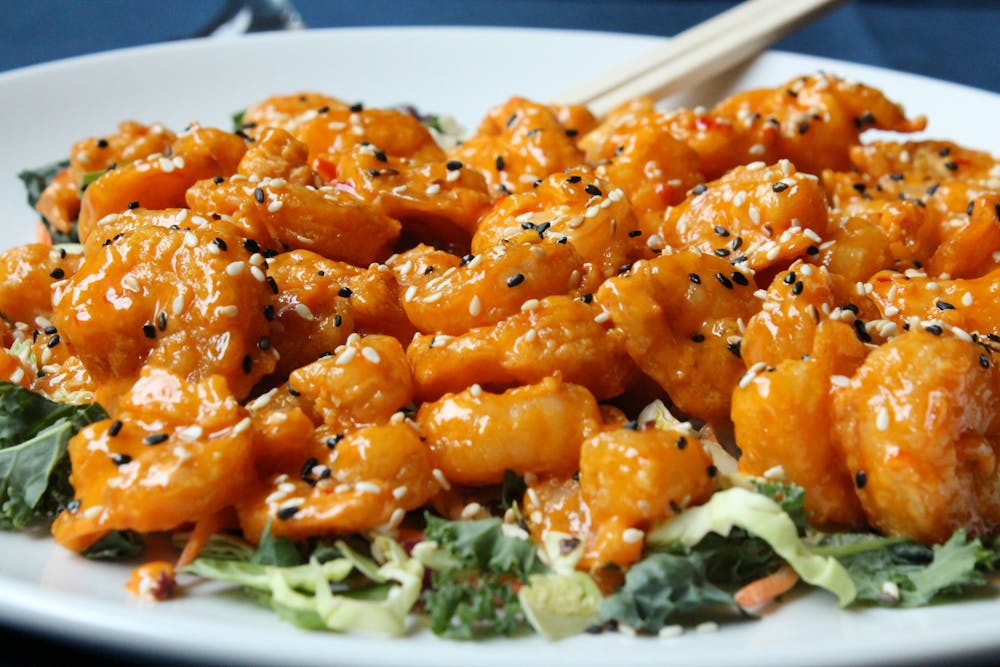 Appetizers
New Buffalo Wings

Crispy Style. Choose from BBQ, buffalo, or garlic parmesan.

$11.99

Beer Cheese Fondue

Wisconsin aged cheddar cheese, infused with our house beer and served with warm pretzel rounds.

$10.99

Roasted Artichoke Spinach Dip

Fire-roasted artichokes and spinach, blended with cheddar and Monterey jack-cheese, served with homemade chips.

$10.99

Boom Boom Shrimp

Plump shrimp lightly dusted in seasoned flour, fried golden and tossed in our spicy boom boom sauce.

$11.99

Maryland Crab Cakes

Fresh lump crab with bell peppers, chives & spices. Lightly sauteed and served with a house remoulade.

$12.99

Chips & Dip

Casey's signature chips served with a French onion dipping sauce.

$5.99

Chicken Nachos

Tortilla chips smothered with beer cheese sauce, grilled chicken, black beans, scallions, jalapenos and sour cream.

$11.99

Truffle Fries

Crispy fries tossed with fresh herbs and parmesan and drizzled with white truffle oil

$6.99
Soups
Made fresh in house every day.
Casey's Clam Chowder

Cup $5

Bowl $7

Hearty Chili

Cup $5

Bowl $7
Flatbreads
$11.99
BBQ Chicken

Grilled chicken, with BBQ sauce, caramelized onions, mozzarella, Romano, provolone.

$11.99

Caprese

Extra virgin olive oil, tomatoes, mozzarella, fresh basil and a drizzle of balsamic glaze.

$11.99

Mushroom & Artichoke

Chopped mushrooms, artichoke hearts and fresh garlic, mozzarella, romano, provolone, olive oil, and fresh herbs.

$11.99
Taqueria
Boom Boom Shrimp Tacos

Lightly fried shrimp in our boom boom sauce, with cabbage and cilantro slaw and pico de gallo, on corn tortillas.

$12.99

Steak Tacos

Prime grilled ribeye with sauteed sweet peppers, onions, pico de gallo and house remoulade.

$12.99

Mahi Mahi Tacos

Blackened mahi mahi, pineapple, red pepper and cilantro salsa, drizzled with a lime-avocado sauce.

$12.99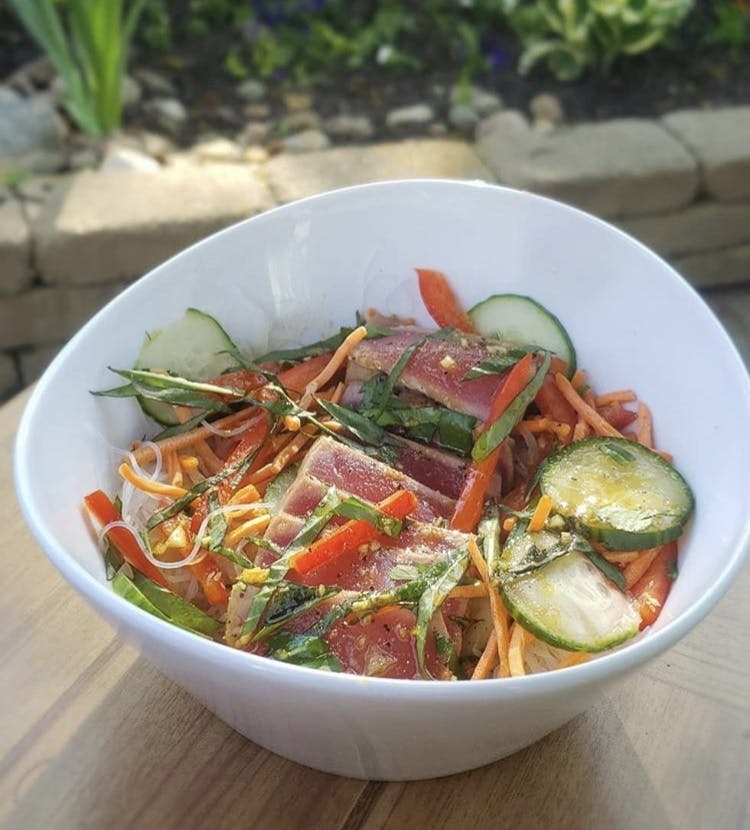 Green & Grain Bowls
Ask about our selection of house-made dressings.
Add Chicken $4

Shrimp $5

Salmon $6

Add Ahi Tuna $8

Southwestern Cobb

Chipotle chicken, mixed greens, chopped bacon, corn n black bean salsa, tortilla strips, pico de gallo, scallions, hard-boiled egg, pepper jack cheese, Southwestern ranch dressing.

$12.99

Beet & Goat Cheese

Arugula and mixed greens, with diced beets, goat cheese crumbles, candied walnuts and a blueberry vinigrette.

$11.99

Ahi Tuna Spring Roll Bowl

Seared Ahi tuna served over rice noodles, fresh basil & cilantro, shredded carrots, red pepper and cucumber, with a soy-ginger dressing.

$15.99

Caesar Salad

Romaine, shaved parmesan, homemade croutons and a tarragon Caesar dressing.

$8.99

Power Bowl

Steamed brown rice and quinoa with black beans, pico de gallo, scallions, mozzarella and provolone and a creamy balsamic dressing.

$10.99
Sides include French Fries, Homemade Mashed Potatoes, Pineapple Slaw, Signature Chips, Sweet Potato Tots+1, Truffle Fries+4
Burgers
Served with choice of side
Casey's Original

8oz Certified prime beef patty. Included upon request: lettuce, tomato, onion, pickle.

$9.99

Add American, Cheddar, Swiss, Blue Cheese or Pepper Jack, Sauteed Onions, Sauteed Mushrooms, Bacon, Jalapenos, Fried Egg+1, Add Mac & Cheese+2

Harbor Burger

8oz Certified prime patty with cabernet glazed onions, smoked bacon, fried egg, provolone and ground peppercorn aioli.

$11.99

Shroomed Burger

8oz Certified prime patty with sauteed mushrooms, gouda cheese, crispy fried onions, and truffle aioli.

$11.99

Baja Burger

8oz Certified prime patty with jalapenos, grilled onions, avocado spread, pepper jack cheese, and baja sauce.

$11.99

Black Bean Burger

Black bean patty with onion, tomato, avocado spread, arugula, and red pepper remoulade on a gluten free bun.

$10.99
Sandwiches
Ultimate Steak

Prime ribeye sliced and grilled, sauteed mushrooms, onion and pepper jack cheese on a toasted hoagie.

$13.99

Classic Reuben

Marinated and slow-cooked corned beef sliced and served with Swiss cheese, sauerkraut and 1000 island on rye bread.

$12.99

BBQ Pulled Pork

Slow-cooked pulled pork, house bbq sauce and pineapple coleslaw.

$10.99

Perch Sandwich

Great Lakes perch lightly dusted in seasoned flour and fried crispy. Served with lettuce, tomato, tartar and lemon.

$12.99

Southwest Chicken

Grilled seasoned chicken breast with avocado spread, pepperjack, black bean corn salsa and southwestern ranch

$11.99
*From the Deli
Casey's Club

Smoked turkey, ham, crispy bacon, Swiss, lettuce, tomato and avocado puree on 9 grain bread.

$10.99

Waldorf Salad

Chicken salad with raisins, walnuts and chopped apple on 9 grain bread.

$10.99

Salami Slammer

Fresh cut salami and ham, fresh mozzarella, with a spicy roasted red pepper pesto on a ciabatta.

$11.99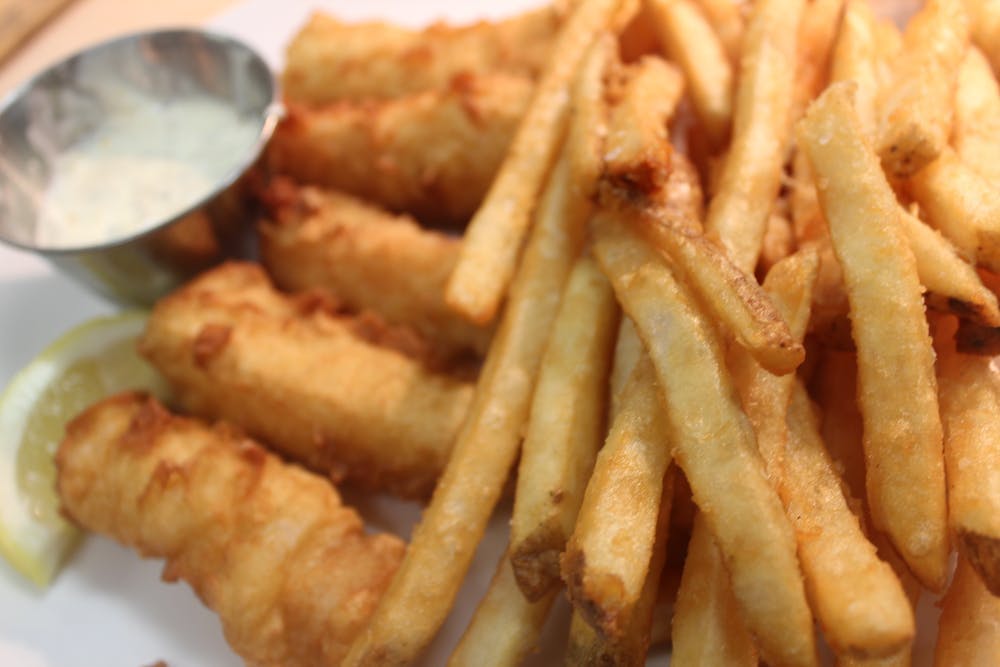 Sides Include French Fries, Homemade Mashed Potatoes, Pineapple Slaw, Signature Chips, Sweet Potato Tots+1. Truffle Fries+4
Entrees
Sides: French fries, homemade mashed potatoes, sweet potato fries (1) or truffle fries (4)
Cherry Smoked BBQ Ribs

Slow cooked smoked ribs, smothered with house made BBQ sauce, served with pineapple coleslaw and choice of side.

Half Slab $14.99

Full $23.99

Pot Roast

Tender braised beef with red wine gravy. Served with homemade mashed potatoes and vegetable of the day.

$15.99

Meatloaf

Homemade thick-cut meatloaf, topped with our house marinara sauce. Served with vegetable of the day and your choice of side

$15.99

Fish & Chips

Beer-battered fresh Atlantic cod, lemon, fries and tartar sauce.

$14.99

Great Lakes Perch

Fresh Great Lakes perch lightly dusted in seasoned flour and fried. Served with lemon and tartar sauce, vegetable of the day and choice of side.

$22.99

Grilled Cilantro Salmon

Grilled Bay of Fundy salmon, broiled with a honey, lime, garlic and fresh cilantro marinade. Served with vegetable of the day and your choice of side.

$17.99

White Wine Chicken

Lightly dusted chicken breast sauteed with white wine, capers, garlic and cherry tomatoes. Served with vegetable of the day and your choice of side.

$14.99

Casey's Mac & Cheese

Cavatappi noodles, cheddar, Monterey jack, and smoked Gouda sauce, topped with herb parmesan breadcrumb crust.

$11.99

Add Chicken/BBQ Pulled Pork $4

Add Shrimp $5

Add Salmon $6

Add Applewood smoked bacon $3

Pesto Shrimp Linguine

Linguine pasta with shrimp and spinach, tossed in a creamy pesto sauce.

$14.99

Tuscan Pasta

Fire-roasted artichokes and tomatoes, mushrooms, spinach, white wine garlic sauce, and fresh parmesan served over linguine.

$12.99

Add Shrimp $5

Add Salmon $6

Add Chicken $4